Hundreds of MIPA students walked into Shaw Hall on Sunday afternoon, July 28, with a clean slate and an even cleaner T-shirt. Along with a week-long camp experience, MIPA staff gave the high school students a white T-shirt and the chance to make it their own with tie dye. However, due to the unpredictable Michigan weather, the tie dying was postponed to Monday.
Chad Sanders, the director of the MIPA workshop, said he was excited for the group photo with the shirts, scheduled for Thursday.
"I'm really looking forward to seeing everyone in their camp shirt, tie dyed with their own style.  I know the picture is going to turn out awesome," Sanders said.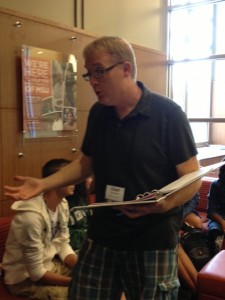 Sanders said faculty member Kirk Weber first brought this idea of bringing originality to the official MIPA T-shirt to his attention. However, he said this new project seems to have provided a bigger undertaking than he originally thought.
"We thought that we would try something different this year," Sanders said. "We have never had the students tie dye their shirts in the past. We are extremely excited about this new activity and glad the kids are eager to customize their shirt; however, this will probably be the last year we do this. It is a lot more work than we anticipated and the weather was not at all cooperative."
Sophomore Emma Puglia, from Grosse Pointe North High School, said, "It makes me feel like I'm a part of something bigger when I'm wearing the MIPA shirt along with everyone else."
Sanders said along with his daily responsibilities, he really tries to work with his staff in making certain the students are connected to what they are given throughout the week. He said the social media bandwagon is definitely an asset in trying to engage the younger generation in the news and journalism world. He said he strives to keep the students interested and having fun while they are learning. The T-shirts, he said, are part of that experience.
"When I get to connect with the kids, it makes it all worth it," he said.